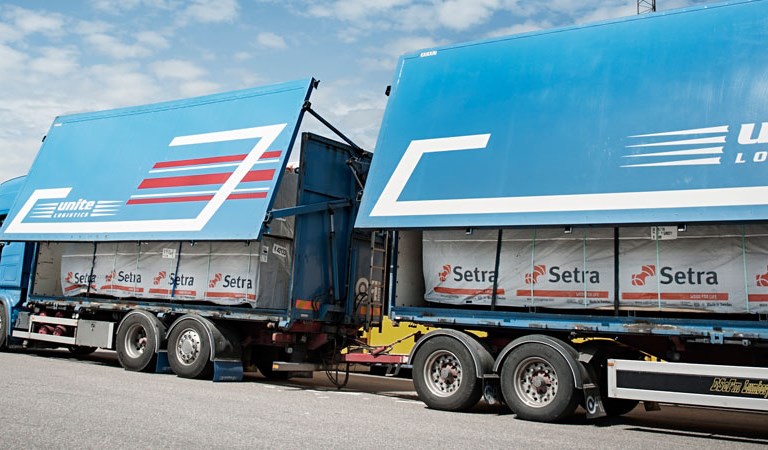 Transport
Setra's business is dependent on transport operations, and these account for the majority of our greenhouse gas emissions. We are working in a targeted way to make them as efficient and sustainable as possible.
Viewed from the perspective of the entire life cycle, our wood products strongly benefit the climate even if they are transported to the other side of the world, because they bind so much more carbon dioxide than is emitted along the supply chain.
Fundamentally, the transport options we use must be efficient, safe and eco-friendly; they must also meet requirements for a good working environment and good working con­ditions. Setra's Code of Conduct for Suppliers sets out basic sustainability requirements and is included in all contracts with our carriers.
The incoming timber is often of local or regional origin and comes from forests within a 13-kilometer radius of the sawmills. The majority arrives in timber trucks and 4 percent is transported by rail.
Our sawn and processed wood products are mainly transported by road and ship. Transport within Europe is mostly by road, while we use maritime transport to the UK, North Africa, the Middle East, Asia and the USA.
From an environmental point of view, rail is the best mode of transport and Setra uses this option whenever possible. Around 20 percent of our sawn wood products travel part of the distance by rail.
We are working to link rail connections between several of our units and gradually increase the share of rail transport.
Over the next few years, Setra will be completing track expansion projects in Hasselfors, Skinnskatteberg and Heby, in cooperation with the Swedish Transport Administration. The rail connections will help to further reduce our carbon emissions and make it easier and more cost-effective to move timber in the event of storms or insect attacks, for example.
Increasing the share of renewable fuels is a key issue that requires close cooperation and dialogue with the carriers.
For domestic road transport, we have a long-term contract with a main supplier, Unite, which has a goal of being fossil free by 2030. Since 2021, all trucks transporting containers from our sawmills to the port or railway terminal are powered by the fossil-free fuel HVO (hydrogenated vegetable oil).
Interest in fossil free transport is espe­cially high with regard to our construction solutions in CLT and glulam. We therefore offer a transport solution that runs on HVO all the way to the building site.
Through the company Pyrocell, which Setra jointly owns with Preem, we contribute directly to the change in the transport sector. Pyrocell produces bio-oil from sawdust, which replaces part of the fossil raw material in petrol and diesel.
We are constantly working to find the most optimal transport solutions at our units. The cargo space must always be used to the maximum, while the distance travelled unladen must be minimized.
Long-term partnerships provide the opportunity for our carriers to plan and find intelligent transport arrangements. A close dialogue and good planning is key to reducing transport emissions.