It is slippery outside the pellet factory in Främlingshem. The year's first snow has fallen and with the temperature hovering around zero a treacherous layer of ice has formed on the unloading area. Even though the enormous mountain of sawdust brings to mind a hot desert landscape, it is important to take care not to slip on the ice.
"Gritting is out of the question since the sand could follow the sawdust into the manufacturing process and damage the machinery," says Andreas Björkman who has been Factory Manager at Främlingshem for a year now.
The factory is owned and operated by Scandbio AB, Scandinavia's largest company for solid processed wood fuels with seven factories in Sweden and one in Latvia. Scandbio's total annual pellet production is 750,000 tonnes per year of which the factory in Främlingshem produces about 65,000 tonnes. Scandbio's operations cover Sweden, Latvia and Denmark. Customers range from private households to small and large industries as well as municipal and state-owned facilities.
About 30% of the sawdust from Setra's sawmills goes to various manufacturers in the pellet industry. The advantages of sawdust as raw material for pellets are cleanliness and the fact that it hardly needs any processing before drying and pelleting.
The raw material for pellet manufacture in Främlingshem originates in the nearby sawmills including Setra's units in Heby and Kastet. Hundreds of thousands of cubic metres of sawdust are brought by truck to the unloading bay adjacent to the factory. All in all Scandbio buys about 130,000 MWh of sawdust per year from Setra for the pellet factories in Norberg and Främlingshem. This corresponds to about 1,500 lorries filled with sawdust. The sawdust must be clean and sorted with spruce and pine separated. The locally produced raw material means shorter transports which further strengthens Scandbio's already clear environmental profile.
"We appreciate that Scandbio has all-year production. This makes our deliveries more even and means we do not have to store volumes during the summer to be able to meet demand during the cold months of the year," says Hanna Lindberg who is Bioproducts Coordinator at Setra.
The right mix determines quality
Manufacturing pellets is something of a craft that requires considerable flair. At Främlingshem they have developed a good mix of sawdust which, without revealing too much of the recipe, is all about carefully weighed proportions of spruce and pine. There are many parameters that must be met if the quality is to be right. The right mix of sawdust is fundamental but it is also important that the moisture content is right at different stages of the process.
From the huge mountain of sawdust, the operators fetch large bucketfuls which they then tip into the intake silo where production starts. The silo is topped up four times an hour round the clock, all the year round. A total of 13 people work in three shifts in pellet manufacture at Främlingshem.
The sawdust enters a drying drum and then up into centrifuges where a whirlwind separates particles from the flow. Water vapour disappears up the chimney and the dry sawdust drops down to pass through a hammer mill where it is ground down to the right fraction. After this, the sawdust is heated and made into pellets in one of the two pellet presses. Newly pressed pellets have a temperature of over 80 degrees and are therefore chilled before being placed in storage where they remain for up to one month. During this period a hardening process takes place which makes the pellets hard and less odorous.
In order to maintain consistent high quality, the manufacturing process is checked three times a day when bulk weight, strength, particulate content, length and moisture content are measured. Every day 150 grams of pellets are taken out of production and saved for one year.
"We don't see the sawdust as a residual product. It is our raw material over which we want to have full control. This is why we only do business with suppliers who promote responsible and sustainable forest management. If the raw material is also certified this gives extra added value and becomes a key link in the chain for energy companies, for example, who want to sell certified heating," concludes Andreas Björkman.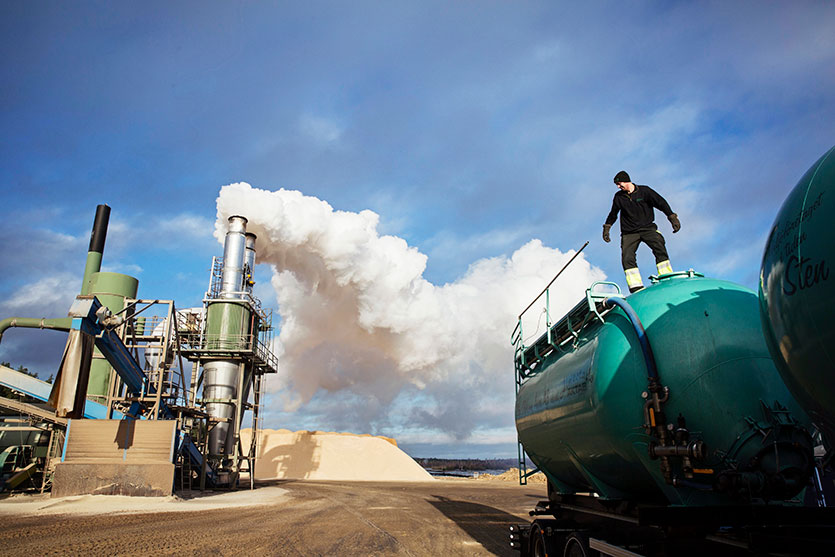 Huge mountains of sawdust rise up on the unloading area in Främlingshem.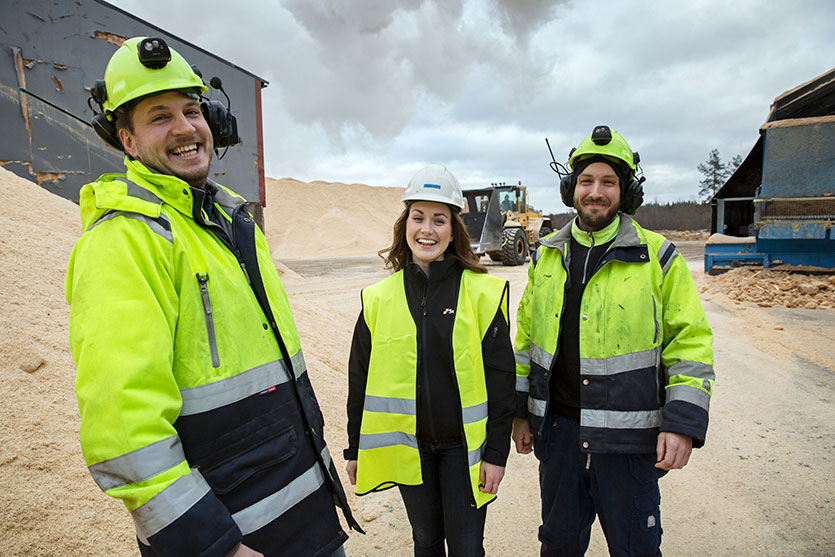 Setra's Bioproducts Coordinator Hanna Lindberg seen here with Andreas Björkman and Fredric Holmsten from Scandbio.
| | |
| --- | --- |
| | |
| Hanna Lindberg is pleased that the interest in certified bio products is now increasing. | Peter Lindberg is an operator at Scandbio and monitors pellet manufacture at Främlingshem. |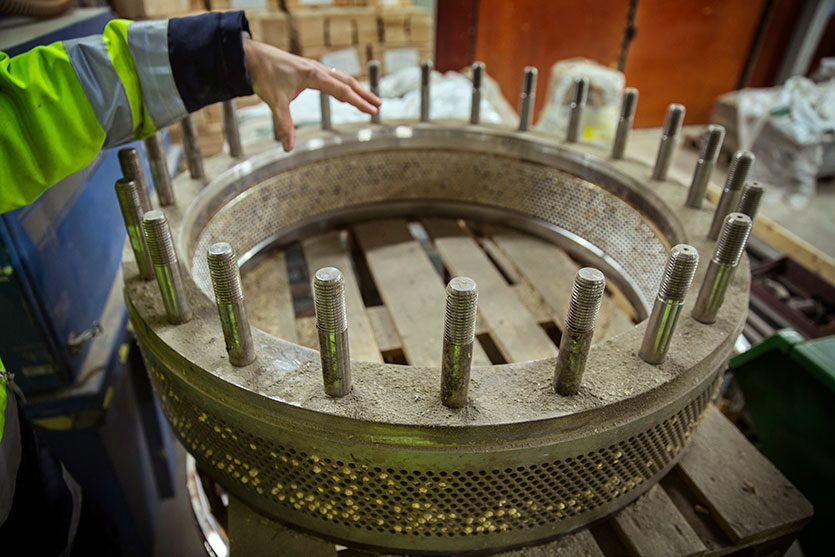 Pellets are manufactured by sawdust being pressed through about 3,000 holes in the press matrix.
Text: Katarina Brandt
Photo: Magnus Laupa