"What's in the glue?How can we make use of that pile of chips?"
There are lots of questions and ideas when student architects from KTH's Master's programme walk along Setra's glulam production line in Långshyttan. They have just made the same walk at a steel works and the contrasts are striking.
"The wood process feels cleaner and gentler. When you can see the production, it confirms how much better it is from an environmental viewpoint. I am keen to start using wood," says student Klara Jonsson.
Impressive wooden structures have received a lot of attention recently, but despite its obvious environmental advantages wood still only accounts for a small part of apartment blocks. Students who visit Setra are part of Full Scale Studio, a Master's studio focused on the building process. By learning more about the production chain behind the material they hope to influence construction projects at an early stage. Anders Berensson, architect and lecturer at the school, thinks that the profession has a bigger role to play on the way to more sustainable building.
"The construction sector is quite dirty. 40% of global energy consumption and 30% of carbon dioxide emissions come from building and wood is one of the cleaner materials. We want our students to understand different building systems and have the confidence to build in order to get involved and drive innovation."
Important to know how young people think
The programme has visited Setra's sawmill in Heby a couple of years in a row. Now the cooperation has been extended to Långshyttan and there are also discussions on a framework for deeper project cooperation.
"We want to take more responsibility for the new generation that will be working with wood. These architecture students are the people who will determine what happens in 10, 15, 20 years," says Thomas Kling, Setra's product specialist for glulam.
For a wood products company like Setra it is valuable to already get a hint of how upcoming architects and designers think.
"It helps us to think about how we can channel our production. The students are attracted by wood being a renewable product and think that you should build with wood rather than steel and concrete. I am impressed by how much they know about wood," says Thomas.
Wood's unique property of continuing to be mouldable, in contrast with cement which is cast to a fixed shape, is another strong argument for the students. As is the fact that wood binds carbon dioxide and contributes over time to reducing the carbon footprint.
"Wood feels very rewarding from a long-term sustainability perspective. Just look at all the wooden houses that are several hundred years old and still standing. I'm convinced that things will change," says Josefine Prescott who will graduate in the summer.
Making building material from bark
Back at the school, the next step is to create alternative materials from raw materials that grow in Sweden. Intensive experiments are in progress here with bark, needles, straw, reeds and mussel shells. In the workshop Niklas Lindersköld is grinding bark from Setra in a domestic mixer. The powder is mixed with wood glue and pressed to form a dark brown chipboard.
"This material could be used as a building component, but first I will test its strength and how resistant it is to fi re."
Klara Jonsson and Hanna Skog toss around some other ideas for uses for Setra's bark. They wonder if it could work as insulation or, with the right binder, be an interior wall.
"We know that the bark is useful and provides energy that is used in Setra's drying process, but it would be cool if you didn't need to burn it but could use it for something more permanent."
The study visits have clearly shown how energy consumption differs between materials. Here, too, wood stands out with its low-energy production process.
"A facade in steel, for example, is not high on my list having seen how much energy is needed in production. I will always keep that in mind," says Klara.
Want to see change
In a couple of years, they will be out at work. Hanna thinks that facts, statistics and discussions at school all lead to the same conclusion. That something must change in the sector.
"I cannot be involved in contributing to these emissions. As an architect, I will be responsible for trying to make a change," she says.
Niklas Lindersköld thinks that the change must come from the construction companies.
"It's quite difficult to have an influence on your own, but I obviously hope that wood will win more ground. For me it is an unbeatable material and I really don't understand why there is not already more building in wood. For example, it has been proved that glulam is more fi re-resistant than steel."
Ebba Hallin, architect and lecturer at Full Scale, thinks she sees the start of a change.
"A lot is happening and there really is enormous interest in wood among the students. But obviously the change will take a long time. It's often a question of economics and it is cheaper for companies to continue with their old routine building systems than to develop new ones."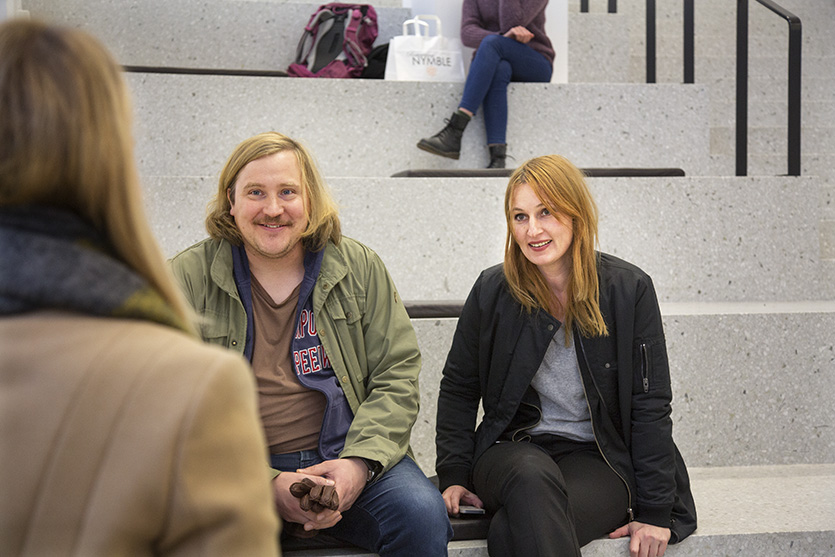 Lecturers Anders Berensson and Ebba Hallin see signs of change and want the students to get involved and push for more innovation in the construction sector.
The next few years will be decisive
The big leap for woodas a building material is just around the corner. That is the opinion of Setra's product specialist for glulam, Thomas Kling.
Twenty years have passed since the construction of wooden buildings with more than two floors was permitted in Sweden. Order intake for apartment buildings with wooden frames has slowly risen and really took off in the first half of 2016. This is reflected in Setra's sales of glulam, which are growing strongly. But Thomas Kling thinks the really big leap is yet to come.
"There will be a big changeover within the next five years. Wooden buildings can account for 15% of the market. Then the question will be how much we manage to deliver and how we can add more value."
The trade organisation TMF (Swedish Federation of Wood and Furniture Industry) is of the same opinion. Gustaf Edgren, who monitors developments for wooden buildings, notes that capacity is being doubled.
"Concrete has perhaps been allowed to be the default alternative for too many years. It is only in recent years that we have become aware of the large carbon footprint of the building process and the enormous gains, ecological and economic, to be made from industrial-scale housing construction. Based on what we now know, wood must always be considered as a large component in new projects.
"Other parts of Europe are heading in the same direction led by Austria, Switzerland and Germany. Over time it is possible that wood will account for 20% of newbuilding," says Gustaf Edgren.
| | |
| --- | --- |
| | |
| Gustaf Edgren, project leader at the Swedish Federation of Wood and Furniture Industry. | Thomas Kling is Setra's product specialist for glulam. |
Buildings on the plus side
A four-storey wooden building binds 150 tonnes of carbon dioxide when the energy used in wood production, transports and the building process is deducted. This is shown by research at Mid Sweden University. No other building material with large-scale use has the same ability for climate compensation.
Many advantages with wood
A glulam frame is strong, easy to shape and, at the same time, shape-stable. It does not burn but just chars on the surface with the core remaining intact for a long time. In addition, wood is energy effi cient, climate smart and value for money compared with other materials. As well as glulam, new technologies such as cross-laminated timber are expected to drive the changeover from steel and concrete.
Text: Linn Treijs
Photo: Björn Lofterud