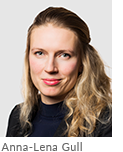 The structure of CLT is as simple as it is ingenious. The prefabricated solid panels are made up of planed timber that is glued together in alternating layers for increased dimensional stability. The result is a structural component that is both strong and stiff in relation to its own weight. Its strength and dimensional stability allow for flexible architectural solutions. Using precision CNC technology, a great deal can be prepared in advance by the manufacturer. Large shapes or holes might be cut out in the factory, for example, to make things easier on the construction site.
A material with many advantages
Anna-Lena Gull, who recently joined Setra as Project Manager, will be responsible for building up the new CLT factory in Långshyttan over the next two years. She will also be establishing Setra's CLT business, covering everything from manufacture and sales to logistics and peripheral services. Anna-Lena has extensive experience of working with CLT and appreciates its many advantages as a material. "I'd like to put forward two hard and two soft benefits. First and foremost, building with CLT is quick and easy, but it is also a sustainable and climate-smart material that additionally helps to create a good work environment for the construction workers.
New approach ensures total control
CLT manufacturing takes a large sheet and then cuts it down into smaller units. Modern CNC technology produces precision cut components that fit together perfectly. This precision and simplicity make CLT a popular material among carpenters. However, the most important arguments in favour of CLT relate not to the material's properties but to what it does for the project. Building with CLT is an entirely different approach that gives complete control from idea to completion. Logistics, delivery and installation are all planned in advance, resulting in fewer decisions and thus fewer errors. The sheer speed of assembly also makes the process cost-effective.
CLT can add value to the raw material
Another benefit is that you don't have to use the very finest materials to get a good product. This can add value to the raw material that traditionally goes unused when manufacturing mass timber products. Being able to use up more of the log also keeps more carbon captured within the wood. In addition, the solid CLT panels don't have to be used everywhere. In fact they work excellently in composite structures that employ other construction materials. This in turn allows for a structure to be optimised on many different fronts, such as cost, fire safety and acoustics. "Demand for CLT has really taken off in recent years and now there is a growing interest in using the material for apartment blocks and industrial buildings. Locating the CLT factory in Långshyttan, close to the glulam production site, is good for Setra as the products have various commercial synergies," concludes AnnaLena Gull.
A climate-smart choice
CLT is a climate-smart choice, because it is made from renewable raw materials and is manufactured using an energy-efficient process. A building that contains 60 cubic metres of CLT stores over 45 tonnes of carbon dioxide over its lifetime. That equates to the emissions of a new petrol car driven the length of Sweden 184 times.
Text: Katarina Brandt