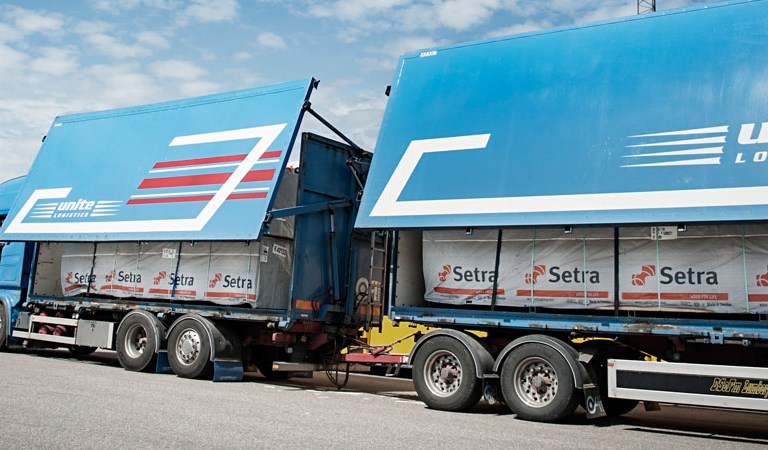 Transport
Transport is a part of Setra's offering and it is important for us to find efficient logistics. Our transport flows are large and complex. Emissions from transport account for more than half of our greenhouse gas emissions. But sustainable transport is also about road safety and the working environment.
The incoming raw timber material is mainly transported by timber trucks, with a smaller proportion being transported by rail. In 2020, the amount of timber shipments by rail was about 4 percent. The timber catchment is usually within a 100 km radius of the sawmills. The Transport Act for sawn and processed goods states that transport should occur via road and ship. In 2020, 48 percent of the transport volume was via road and 52 per cent via ship. The majority of transport in Europe is by road, while the longer deliveries to North Africa, the Middle East and Asia are by ship, as well as deliveries to the UK and Southern Europe.
From a Climate Perspective, Rail Transport is Best
Before sawn and processed goods are loaded onto ships they have already been delivered to the loading port by road. In recent years, a so-called intermodal transport system has been implemented, albeit on a small scale. The timber is picked up at Setra's units by a vehicle, but the trailer/container is then loaded onto trains for transport to the customer or loading port. From a climate perspective, the train is the best mode of transport and ships produce lower specific climate emissions than trucks.
Setra sells large volumes of wood chips to customers in the pulp and paper industry as well as chips, bark and sawdust to energy customers. These products have a high volume and deliveries are made exclusively by road, usually to a regional market within an area of about 200 km. Other transport examples are internal transport of sawn timber from sawmills and processing units, deliveries of other supplies to the facilities and the transporting of materials from the plants in the form of ash and waste.
Load Factor and Load Driving Level are Important Aspects
From a life cycle perspective where the climate impact of sawn timber products are assessed from the "cradle to grave", transport accounts for the major part of Setra's emissions of greenhouse gases. The emissions vary with transport distances and different modes of transport. A partnership with our carriers is a prerequisite for reducing any impact to the climate. Important aspects of climate-smart solutions are the load factor and the load driving level. The load factor refers to how much of the load space is being used. The load driving level refers to the proportion of the distance the vehicle is travelling with how much of the load space is being used. Long-term partnerships provide the opportunity for our carriers to plan and find intelligent transport solutions. A close dialogue and good planning is key to reducing transport emissions.