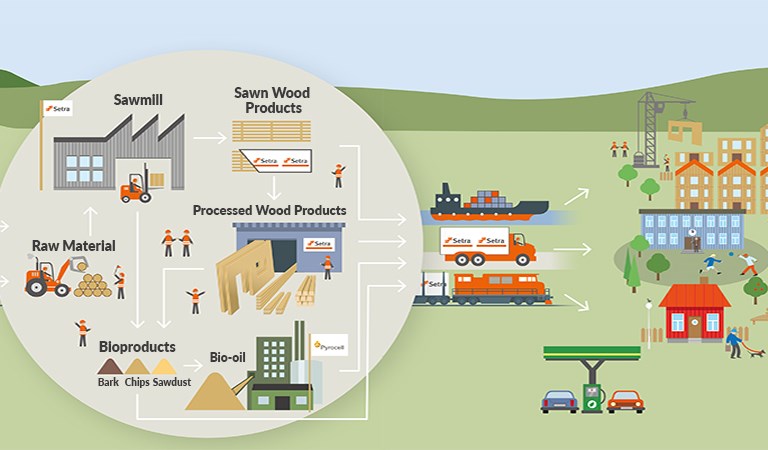 Value Chain
Setra's sustainability work focuses on the entire value chain, from the renewable forest's raw materials all the way to the processed end products. We take responsibility for any impact we may have on people and the environment. At each stage of the value chain process we reduce our footprint and increase the value and positive effects of how we run our business.
Our business relies on raw materials from the Swedish forest . We set and adhere to high responsible forestry standards. All raw materials purchased are controlled or certified according to FSC® / PEFC.
In our sawmills and processing units the timber gets sawn and processed into wood products, and in the house factory into pre-fabricated housing. Bio products such as bark, wood chips and sawdust are made during the sawing and planing processes. The units are often located in small towns, which makes Setra a significant local employer.
Our products are transported by road and ship to customers around the globe. In order to cooperate with transport carriers and to set clear requirements, it is important to find resource efficient logistics solutions.
We provide environmentally friendly products and solutions for building and housing. Cellulose chips offer a valuable raw material for the paper and pulp industry. Bio products, which are sold to the energy sector, help to reduce dependence on fossil energy fuels.